Papaya : The best fruit for our skin
Papaya  The best fruit for our skin
img src-the benifits
Papaya  The best fruit for our skin. Hello friends, as we all know that nature have gave us all the things which are necessary to increase our beauty but we can't find it and search the solution of our problems by other ways(chemicals). If we use cosmetics then it may be harmful but herbal things are pure and given by nature and that's why it is a safe way to beautify our skin.
Today I want to tell you about papaya. It is not only tasty fruit but very cheap and easily available too. Today I will share some useful tips about papaya and after reading this article you will definitely eat papaya and use it for your skin too.
img src- producemadesimple
Papaya  The best fruit for our skin
At first we know about papaya. Papaya is very nutritious fruit. It contains Vitamin C which is good for our skin. In addition it have Vitamin A, E and K which are good for our skin too. We should always eat it because it have calcium, iron, magnesium, potassium, sodium and zink too in little amount. A raw papaya pulp contains 88% water.
How it is useful for our skin –
In this section I will share easy face masks of papaya.
Mix well papaya pulp, cucumber juice and tomato juice in equal amount. When it dries, apply it again. Do it 5 times. Rinse your face with cold water after 20 minutes. Daily do it for 1 week. It will cure your rashes.
Mash papaya pulp with milk and apply on your face. After 5 minute rinse it with cold water. This pack is helpful to light your black spots.
Take a half cup of ripe papaya pulp, 2 tsp honey and mix it well. Apply a thin layer on face of it. Rinse it after ten minutes. It is very useful in pigmentation.
Raw papaya pulp, milk powder, lentil powder and half tsp honey , mix well it's. Apply it on face and massage gently then rinse. This scrub is very good to get flawless beauty.
img src- dermatocare
5.Take ripe papaya pulp and mix 10 -12 drops of lemon juice. Apply it on your face for 20 minutes and then wash it. It works for skin lighting.
6.Mash some papaya pulp with tomato pulp. Apply it on your face for 10 minutes after that wash it. This pack will reduce your marks and makes your skin brighter.
7.To reduce excess oil from your face mix papaya pulp with fullers earth powder and apply this pack on your face.
8.To get fair colour mix papaya pulp with sandalwood powder. Apply it on your face for 20 minutes and rinse well.
9.Add papaya pulp into rice powder and make a smooth paste. This face pack is very effective to remove blackheads to skins.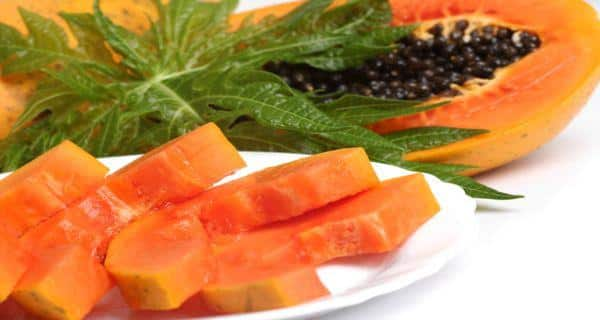 img src – thehealthsite
Now we have known all the facts of papaya. Papaya is a blessing for our skin and it is very easy to use.  Papaya is not only good for our skin but it cares our health too.
Read also – Skin care in rainy season
So let us know what is the benefit of it for our health-
Constipation– It is great to stop problem of constipation. It keeps our digestive system healthy. After dinner eat some papaya cubes for few days and see the results.
Breast Milk– It increases breasts milk in mothers.
Stomach worms– Many children have the problem of worms in stomach. In that case give them seeds of papaya or make a paste of water.
Piles– Eat both times papaya at a day about half of kg. It will cure both types of piles.
High Blood Pressure– Patients of high BP should eat papaya daily.
Diabetes– 20 gram papaya with 5 gram kattha and supari is good for diabetics.
Immune system– Papaya contains Vitamin C, A, E and antioxidents which boosts our immune system and increases WBC.