Marriage pics of Priyanka Chopra and Nick Jonas
Marriage pics of Priyanka Chopra and Nick Jonas
Hello guys..After a long time we have seen a grand marriage between a Bollywood diva and a Hollywood rock star. Yes , You are thinking right I am talking about famous Bollywood actress Priyanka Chopra , who is now Mrs. Priyanka Chopra Jonas.
Priyanka looked stunning in her all wedding functions. Let's see some pics of her wedding.
img src-indiatoday
Now let's know about their journey from general people to a big star.
Priyanka Chopra won the Femina Miss India-World title(2000) and later established herself as an actress in Bollywood. She was born in Jamshedpur, Jharkhand on July 18, 1982. Her late father Ashok Chopra and mother Madhu Chopra are doctors.
She joined Jai Hind College in Mumbai to pursue her graduation but left it after winning the Miss World Pageant.
img src-vox
Priyanka Chopra's made her Bollywood debut with the film Andaaz, Her co-stars in the film were Akshay Kumar and Miss Universe Lara Dutta. She won two awards for this film: the Most Promising Newcomer from Star Screen and Filmfare.
This famous Bollywood actress has also been the brand ambassador of some highly reputed brands like TAG Heuer, Garnier, Nokia, Pepsi, Nestlé, and more.
img src-thestatesman
Nick Jonaswas born asNicholas Jerry Jonason 16 September 1992  in Dallas, Texas, USA. He spent the majority of his childhood in Wyckoff, New Jersey. His fascination for art and music took him to the theatre during her school days. At the tender age of 7, he made his Broadway as Tiny Tim in A Christmas Carol.
img src-bollywoodshaadis
Nick Jones was born into a middle-class religious family with roots in Texas. His father, Paul Kevin Jonas, worked as a songwriter and musician. His mother, Denise Miller-Jones, worked as a singer, sign language teacherandordained minister at an Assemblies of God church.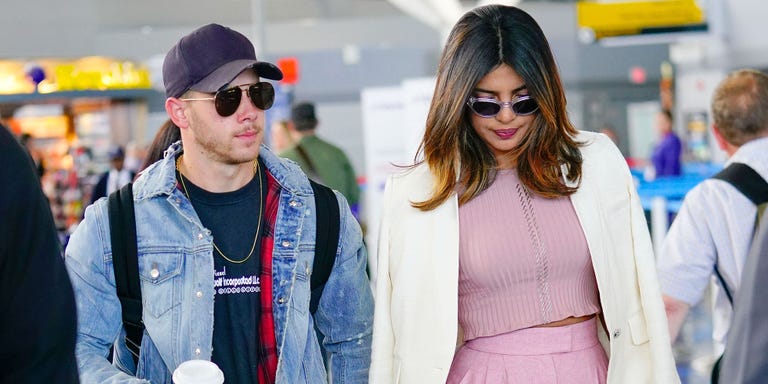 img src-hearstapps
Jonas made the first move by sending Chopra a direct message on Twitter, saying, "I'm hearing from a few mutual friends that we should meet," Priyanka responded day-of, "My team can read this. Why don't you just text me."
img src-bollywoodshaadis
Both stars attended the Vanity Fair Oscars Party separately, but when Jonas saw Priyanka headed in his direction, he got down on one knee "in front of a bunch of people" and said, "You're real. Where have you been all my life?"
img src-skynews
The duo arrived to the Met Gala red carpet together, both wearing Ralph Lauren ensembles. Chopra's look was a tench coat-inspired gown with an epic 20-foot train that completely took over the museum stairway.
Marriage pics of Priyanka Chopra and Nick Jonas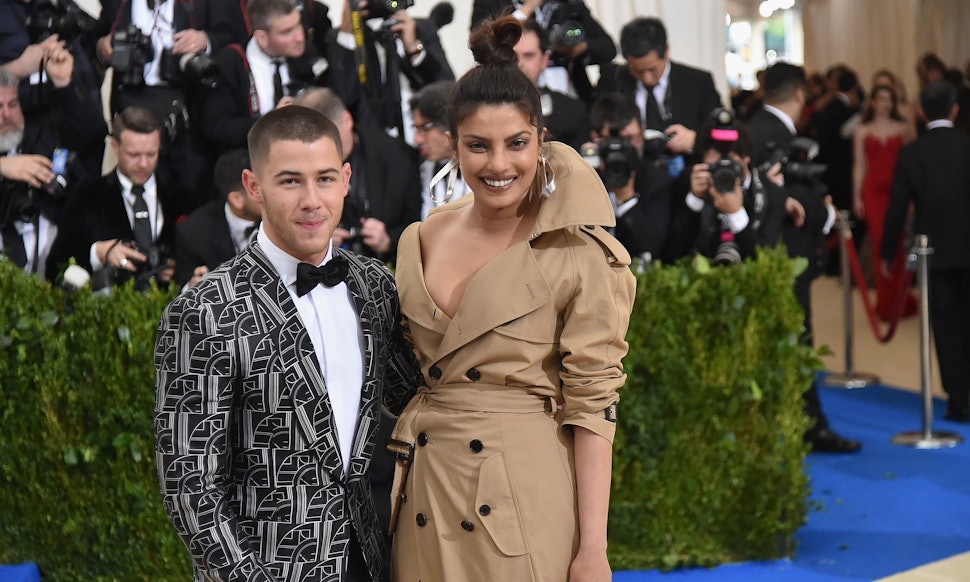 img src-imgix
After a long date they named their relationship by wedding. Priyanka is Hindu and Nick is Christian so they married by two times in both religious rituals.
img src-currentriggers
Marriage pics of Priyanka Chopra and Nick Jonas
Prime Minister Narendra Modi was at reception to give blessings to couple.
img src-prokerala
Beautiful couple. Looking so gorgeous in pics.
img src-bollywoodshaadis